DON'T BE AFRAID TO FULFILL PEOPLE'S DREAMS
ABOUT A BEAUTIFUL AND FUNCTIONAL GARDEN
– CHECK THE MANUFACTURER'S OFFER!
GIVE YOURSELF A CHANCE
TO FIND MORE CUSTOMERS!
Thanks to cooperation with A&M, a Polish manufacturer of wooden garden architecture, you will gain not only regular and loyal customers, but also something priceless – respect and trust. This is the greatest treasure in business, for which you work tirelessly for years. However, remember about a very important thing that should be kept in mind: "you should always offer the customer what he wants, what he dreams about, and you will never complain about the lack of customers."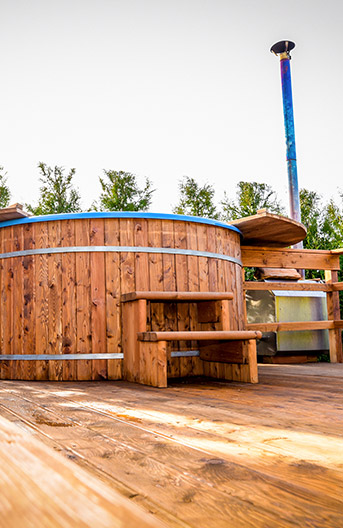 Do you want to design the space around your home, or maybe you dream of a well-equipped recreation area in your holiday resort?
Our garden architecture, summer houses, gazebos, saunas and hot tubs (banyas) are made of natural wooden materials that are characterized by a simple Scandinavian design and easy assembly. By buying them directly from the manufacturer, you can be sure that each element has been precisely made by our experienced carpenters. The attractive price is free of additional costs that would be added when purchasing equipment from intermediaries.
Aesthetic green space equipment
Imagine a beautiful green area with a Finnish sauna where you can relax and regenerate after a tough day. Right next to it you will find a tub of ice-cold water, preserved in the same natural, simple style, into which you can jump to firm your body and strengthen your condition, as well as gain strength. Within your sight, there are charming houses and gazebos where you can relax, read a book, drink coffee or spend time with your friends at an evening barbecue. Russian banyas are do not only cool your body but also allow you to take a hot bath. These great wooden garden structures will certainly diversify the visit of tourists in every holiday place. The use of wood to design external architecture allows you to create a coherent, natural composition.
Trust in our experience and passion
The components from which the houses, hot tubs, saunas and other wooden garden structures are assembled are made of dried spruce, larch and pine boards. The raw material undergoes a technological process, thanks to which it acquires resistance to external factors and does not deform during use. We use wood of Polish origin, purchased from the State Forests. The building material is characterized by excellent insulating properties, which are very important in the production of houses, banyas and saunas. Objects made of this element affect the feeling of coziness.
Wooden garden equipment
The wooden garden structures made by our team have good acoustic parameters; they absorb sounds, reduce echoes, which affects privacy and create a relaxing atmosphere. Simple, Scandinavian design can be easily adjusted. Thanks to impregnation and painting, you will gain your dream colors and furniture in the most desired style. Check our offer of wooden gazebos, summer houses, hot tubs, banyas and saunas.