Designed for recreation and body hardening. Perfect for the garden, terrace or plot. It can be an interesting attraction of accommodation facilities.
The sauna is made of Polish spruce wood, including the Thermo Wood and has optimal thermal and mechanical parameters. The construction is made of boards with a thickness of 45mm. Dimensions: 245 cm long and 200 cm high. It is equipped with a covered vestibule with benches. Gray bitumen shingle roof. Front door with tempered glass. There are benches and a floor inside. The sauna from A&M is reinforced with 3 metal clamps and stands on 2 wooden bases.
The sauna is already assembled before shipping. Extra charge options: impregnation with varnish, installation of the stove, glazing.
Top class sauna
Do you want to experience something that would fully meet your needs – simply and without compromise? If so, the sauna from A&M is made especially for you. Rest in harmony with yourself and on your own terms. The sauna will become a great place to relax for you and your loved ones. A session at a high temperature will allow you to get rid of harmful substances, and at the same time will put you in a good mood. The mind and emotions will calm down, and the body will experience blissful relaxation. Sauna is also a way of original entertainment for guests, if you run an accommodation facility.
Natural wood
Sauna from A&M is a top class product, because it is based on natural material such as spruce wood from Polish forests. Thanks to it, you will also appreciate Thermo Wood, which not only cares about thermals, but is also responsible for high resistance and durability. The boards have a thickness of 45 mm, and the whole structure measures 245 cm in length and 200 cm in height, which ensures an intimate atmosphere. The interiors have comfortable benches and a wooden floor. The entrance door is distinguished by elegant glazing made of tempered glass. And right next to them there is a practical vestibule with two benches, a roof and a platform – all to make your rest comfortable. On the roof there is a bitumen shingle in a subdued gray color. The structure is joined by 3 metal clamps, and the whole sauna is mounted on 2 stable bases.
Just for you 
You can place the sauna wherever you want – it can be the center of the garden or its secluded part, as well as a terrace or a recreational plot. It can also be used as a great attraction for holidaymakers who will certainly appreciate its unique qualities. You can also configure the sauna in several ranges. The first is additional glazing on the rear wall in a semi-panoramic or fully panoramic option. Second – you can choose one of the 3 available stoves of the recognized Harvia brand (electric or wood-fired). And the third is the addition of impregnation, which will be made with a dedicated varnish – 10 colors to choose from. We will deliver the already assembled sauna to your garden, company or accommodation facility.
Specification:
Thermo Wood
external dimensions: 245 cm long, 2 m high
frontal vestibule
wall thickness: 45mm
wood: spruce
 roof: covered with gray bitumen shingles
wooden: floor and benches
three clamps securing the sauna
door: wooden with tempered glass
two wooden bases to be placed on the ground
Thermo Wood – innovative technology in harmony with nature
Selected products available in the A&M offer have been built on the basis of natural Thermo Wood, which is an ideal protection against moisture, temperature changes and deformations. Thermo Wood is made in the process of hardening, thanks to which it becomes more resistant and durable, and is ideal as a building material for saunas, tubs, swimming pools or jacuzzis. This means that the wooden elements of our products retain optimal properties for many years, which positively affects the quality and operating conditions.
Thermo Wood is a unique material obtained as a result of using an innovative method of thermal modification of natural spruce wood. This process is also called wood hardening, because it takes place in specially built chambers with high temperatures (190-215°C) and steam. As a result, traditional spruce wood is hardened to a dark brown color and features typical of tropical wood. High temperature and steam make the obtained material completely free of moisture and resin, and the sugars present in it are crystallized. Thanks to this treatment, the obtained Thermo Wood practically does not absorb water and is resistant to the development of various types of fungi and mold. What's more, the wood gains better thermal insulation, greater strength and does not deform under the influence of moisture or temperature. Moreover, it effectively resists putrefactive processes and decay.
Thermo Wood is a unique material that perfectly fulfills its role in saunas, hot tubs and wherever resistance to moisture, microorganisms and temperature is important. Hardened natural spruce wood makes the products built on its basis characterized by high resistance and durability, providing users with comfortable operation for the benefit of health.
Harvia stoves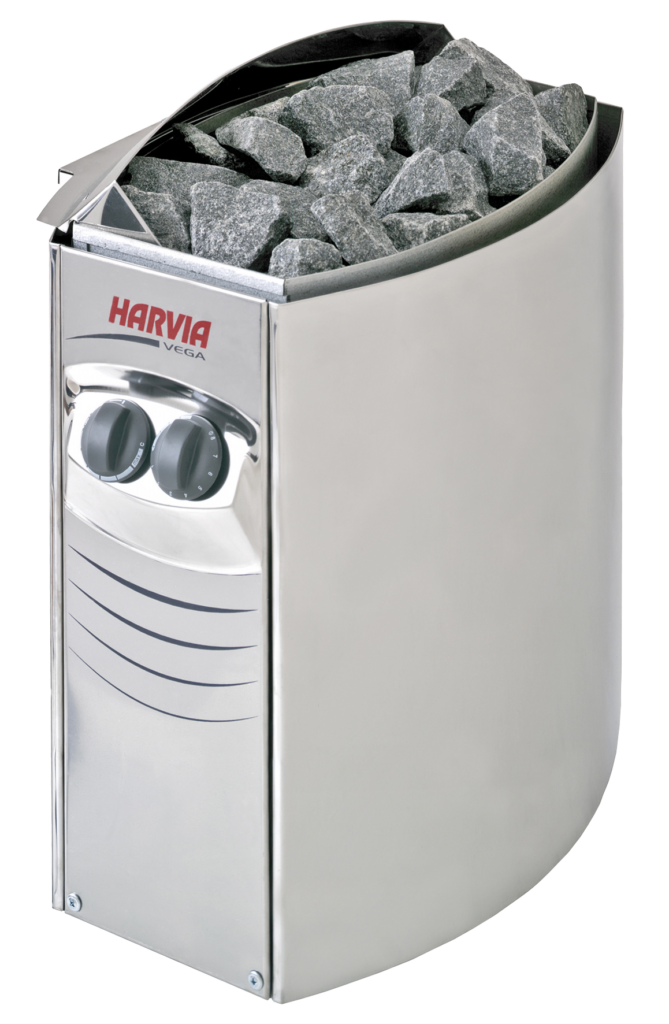 Saunas are available in the A&M offer and have been equipped with modern and environmentally friendly Harvia wood and electric heaters. These devices are distinguished not only by their high energy efficiency, but also by their elegant design. The main advantage of Harvia heaters is the fact that they provide the right temperature for healthy and safe saunas, in exactly the same way as the people of Finland have been doing for centuries.
A standard heater included in the set has a rated power of 16.5 kW, which allows you to quickly heat up to 30 kg of stones on the stove and increase the temperature to the desired value.
The stove is made of stainless steel, so it will successfully serve for many years, tirelessly giving heat. The glass door, on the other hand, is a functional element that allows you to watch the wood burning process and enhances the aesthetics of the interior together with the subdued, graphite color of the stove. An undoubted advantage of the stove is a chimney water tank. The natural air circulation enables even heat circulation in every corner of the sauna.
A key advantage of the sauna is the compact size of the stove because it provides maximum space for people. The presence of a wood-fired heater in the sauna is also a guarantee of an amazing atmosphere and the opportunity to experience the eternal element of Nature – fire. As a result, all saunas equipped with Harvia heaters give a sense of exceptional comfort, and thus allow you to relax your body and mind in a magical atmosphere.